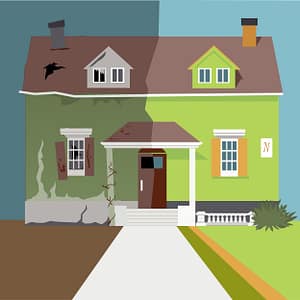 Our Fix-and-Flip loan is our most common loan.  Lets talk about the fees and how to get started
10% Interest
Annualized 10% interest only on the entire loan amount, paid monthly. EX: $100,000 Loan Amount would cost $833.33 per month.
2 Points
A point is 1% of the total loan amount. Ex: $100,000 loan amount would incur a one time charge of $2,000. These points are the Loan Fee.
Other Fees
You will not find any other fees in our business model.
65-70% LTV
This means we will lend up to 70% of the existing value of the property (Loan To Value). Our property valuation determination is typically done "in house." Unlike many lenders we don't typically need an outside appraisal on your property. We know most metro markets and can, when given enough information determine the value very quickly.
80% loan to cost
We typically will lend up to 75% of the purchase price of the property. We will consider lending up to 85% in some cases with experience and/or excellent borrower credit. see below for how to borrow 100% of purchase price.
100% of Construction Costs
We will lend up to 100% of construction costs. Please see details below.
Borrower
Credit Score
While we don't have a minimum credit score (we understand this credit score only tells part of the picture, and we are always willing to look deeper), we generally want to see a credit score over 650, we only want to make safe loans (for ourselves and our borrowers).  As a national average, borrowers with less than 650 credit score have a 27% default rate while borrowers over 740 credit score have a 5% default rate.  We are willing to allow borrowers to have an additional guarantor when it is needed to allow our credit threshold. 
Experience
While never required (over 20% of our borrowers have no previous experience),  previous properties completed, or experience in the construction industry will help us make a quicker loan decision.
LLC
We will originate a loan to an entity (LLC/Corporation), a trust, or to a borrower personally. We will need a copy of your entity documents prior to loan closing.  All entity loans require personal guaranty.
While we always recommend a phone call first, you can fill out a borrower application here.
Property
Purchase price
We are happy to discuss our lending in general, or in regards to a property that you do not currently have under contract-this conversation is helpful for many borrowers to be comfortable in making an offer or in simply understanding all of the expenses related to a loan.  Eventually we will need to see a purchase contract (in the name of the borrower).
Statement of Work
The Statement of Work (SOW) outlines the improvements to the property as well as a cost estimate.  This is critical in determination of ARV which is needed prior to a loan commitment.  The SOW will be necessary prior to any construction loan, but will also be helpful in our making a quick loan decision.  You can use a simple spreadsheet, or something more detailed as in this template from Bigger Pockets website.
After Repair Value
After Repair Value (ARV) is determined by comparable properties in close proximity to the subject property that have sold in the recent past.  Hopefully you are very familiar with your "comps" and sharing those with us will again help in making a quick loan decision.   We are happy to share what our research shows as well in order to help you make an informed decision.
  You may find a property application here.
Many of our Fix-and-Flip Loans include the full amount of the construction costs.  Funds are held by the lender and paid out upon incremental completion.  You can call for as many construction draws as you like (there is $125 fee paid to a third party for site inspection), funds will be dispersed to borrower (or vendor). A Statement of Work will be agreed upon prior to funding, this document can be modified during your project with both party's approval.
100% Purchase and Construction Lending
It is possible to borrow 100% of your purchase and 100% of your construction funds.  This is done by combining a Fix-and-Flip loan with an Equity/Junior Loan.  The basics are that at closing, your loan is collateralized by the property to be purchase as well as an additional asset (typically on an investment property that has equity over any existing loans).  This loan may have additional costs.
*The Fine Print: there may be a doc prep fee for loans that are "out of our box," but there are only a couple of these that we originate each year. Appraisals (when needed-rarely) are paid for by borrower, then typically refunded at closing.